Altitude-related cough
Received: 10 May 2013
Accepted: 5 October 2013
Published: 31 October 2013
Abstract
Altitude-related cough is a troublesome condition of uncertain aetiology that affects many visitors to high altitude. The traditionally held belief that it was due solely to the inspiration of cold, dry air was refuted by observations and experiments in long duration hypobaric chamber studies. It is likely that altitude-related cough is a symptom of a number of possible perturbations in the cough reflex arc that may exist independently or together. These include loss of water from the respiratory tract; respiratory tract infections and sub-clinical high altitude pulmonary oedema. The published work on altitude-related cough is reviewed and possible aetiologies for the condition are discussed.
Keywords
Angiotensin Converting EnzymeHypobaric HypoxiaAcute Mountain SicknessAngiotensin Converting Enzyme ActivityCough Frequency
Introduction
'Alan was still racked by frequent coughs, and periodically, as if by auto-suggestion, I found that I too was succumbing to a bout. Once started, there was no escape. The cold dry air compounded the irritation in the throat and the victim's body would be shaken by the hacking cough until randomly flung free of its spell. The nights at base camp as well as on the mountain were often punctuated by staccato bursts of noise disturbing the sleep of the sufferer and all those around'.
This description by the late Joe Tasker is typical of the debilitating, paroxysmal cough that is well known within the mountaineering community to effect visitors to high altitude [1–3]. Four members of the 1971 International Himalayan Expedition to Mount Everest suffered rib fractures as a result of coughing and other similar accounts of cough-related rib fractures at high altitude exist [2–4]. In a survey of 283 trekkers walking in the Everest region of Nepal, 42% suffered from cough while in another study, again in the Everest region of Nepal, the prevalence of cough was found to be 22% between 4243 and 4937 m [5].
The first formal study of cough at high altitude took place during the 1994 British Mount Everest Expedition when 10 subjects trekking from 2800 m to Everest Base Camp at 5300 m underwent nocturnal cough frequency monitoring [
6
]. Nocturnal cough frequency increased with increasing altitude. In three climbers in whom recordings were made at 7000 m on Everest there was a massive increase in nocturnal cough frequency (Figure
1
). As part of the same study citric acid cough threshold was measured in 42 subjects at sea level and on arrival at Base Camp at 5300 m and again at Base Camp in 23 of these same subjects after they had spent at least 9 days at or above 5000 m. Citric acid cough threshold was unchanged on arrival at Base Camp compared with sea level but was significantly reduced on the second visit to Base Camp compared with both the sea level and first visit to Base Camp measurements. Despite both anecdotal and observational evidence of an increase in cough with altitude, and a demonstrated change in citric acid cough threshold, the aetiology of altitude-related cough is poorly understood and treatment remains unsatisfactory.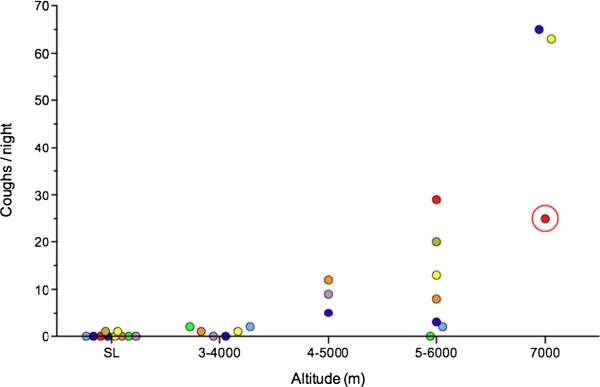 Declarations
Acknowledgments
I would like to thank Dr. Peter Barry of Leicester University who first introduced me to the problem of altitude-related cough and who has shared many of my adventures at altitude and the late Professor John Widdicombe for his constant encouragement to discover more about the subject. Without their friendship and support we would know even less about altitude-related cough.
Authors' Affiliations
(1)
Consultant in Critical Care Medicine, Royal Gwent Hospital, Newport, UK
Copyright
© Mason; licensee BioMed Central Ltd. 2013
This article is published under license to BioMed Central Ltd. This is an open access article distributed under the terms of the Creative Commons Attribution License (http://creativecommons.org/licenses/by/2.0), which permits unrestricted use, distribution, and reproduction in any medium, provided the original work is properly cited.