Resuscitation and auto resuscitation by airway reflexes in animals
Received: 6 September 2012
Accepted: 19 August 2013
Published: 22 August 2013
Abstract
Various diseases often result in decompensation requiring resuscitation. In infantsmoderate hypoxia evokes a compensatory augmented breath – sigh and more severehypoxia results in a solitary gasp. Progressive asphyxia provokes gasping respirationsaving the healthy infant – autoresuscitation by gasping. A neonate with suddeninfant death syndrome, however, usually will not survive. Our systematic research inanimals indicated that airway reflexes have similar resuscitation potential asgasping respiration. Nasopharyngeal stimulation in cats and most mammals evokes theaspiration reflex, characterized by spasmodic inspiration followed by passiveexpiration. On the contrary, expiration reflex from the larynx, or cough reflex fromthe pharynx and lower airways manifest by a forced expiration, which in cough ispreceded by deep inspiration. These reflexes of distinct character activate thebrainstem rhythm generators for inspiration and expiration strongly, but differently.They secondarily modulate the control mechanisms of various vital functions of theorganism. During severe asphyxia the progressive respiratory insufficiency may inducea life-threatening cardio-respiratory failure. The sniff- and gasp-like aspirationreflex and similar spasmodic inspirations, accompanied by strong sympatho-adrenergicactivation, can interrupt a severe asphyxia and reverse the developing dangerouscardiovascular and vasomotor dysfunctions, threatening with imminent loss ofconsciousness and death. During progressive asphyxia the reversal of graduallydeveloping bradycardia and excessive hypotension by airway reflexes starts withreflex tachycardia and vasoconstriction, resulting in prompt hypertensive reaction,followed by renewal of cortical activity and gradual normalization of breathing. Acombination of the aspiration reflex supporting venous return and the expiration orcough reflex increasing the cerebral perfusion by strong expirations, provides apowerful resuscitation and autoresuscitation potential, proved in animal experiments.They represent a simple but unique model tested in animal experiments.
Keywords
AnimalsAsphyxiaAspiration reflexAutoresuscitationCoughExpiration reflexResuscitation
Background
Breathing can be frequently modified reflexly or voluntarily. According to time andintensity characteristics, the modifications of breathing can be well assessed byrecording of electromyogram (EMG) of inspiratory and expiratory muscles and airflow, aswell as the activity of afferent and efferent nerves and their central structures.Monitoring of breathing and other physiological parameters in infants indicated thatapnoeic episodes and occasional occlusion of the face-mask outlet evoke 4 differenttypes of reaction. They depend mostly on the intensity of the resulting hypoxaemia andhypercapnia, as well as on the maturity of the infants' cardio-respiratory controlmechanisms. Polysomnography in healthy infants during sleep indicated, that anoccasional airway occlusion, causing hypoxia usually evoked a startle reaction,accompanied by limb and nuchal EMG activation, neck extension, and heart rate (HR)acceleration. There was a simultaneous large biphasic inspiratory effort - augmentedbreath or sigh, where the intensity of startle correlated with the magnitude ofmaximal negative airway pressure and HR acceleration. These results indicate that theaugmented part of sigh coincided with the genio-glossal (GG) muscle activation,resulting in frequent opening of airway closure with only brainstem or sub-corticalmechanism, but without cortical involvement. More severe hypoxia results in asolitary gasp. These reactions improved with age and were not caused bystimulation of stretch receptors due to lung inflation [1–3].
Gasp as a primitive form of breathing develops during the foetal life in mammals. As thefirst breaths after birth connected with hypoxia, sighs and solitary gasps tend todistend the atelectatic alveoli, contributing to a gradual distension of the lungs innewborns. Stronger and longer-lasting asphyxia after reconfiguration of thecardio-respiratory control mechanisms provokes development of
gaspingrespiration
. This is characterized already by markedly depressed brain functionwith flat electroencephalogram (EEG), suppressed peripheral reflexes and muscularatonia. Gasping respiration develops often before death as a last resort, tending torestore the failing vital functions and to resuscitate the mammals -
autoresuscitation by gasping
[
4
–
9
]. This autoresuscitation mechanism maybe unsuccessful in excessive and long-term asphyxia, or in babies with under-developedcardio-respiratory control mechanisms. Such a failure may occur particularly during thefirst months after birth, often resulting in
silent death
(Figure
1
). Therefore, the explanation of the mechanisms of autoresuscitationby gasping appeared to be extremely important, particularly in infants.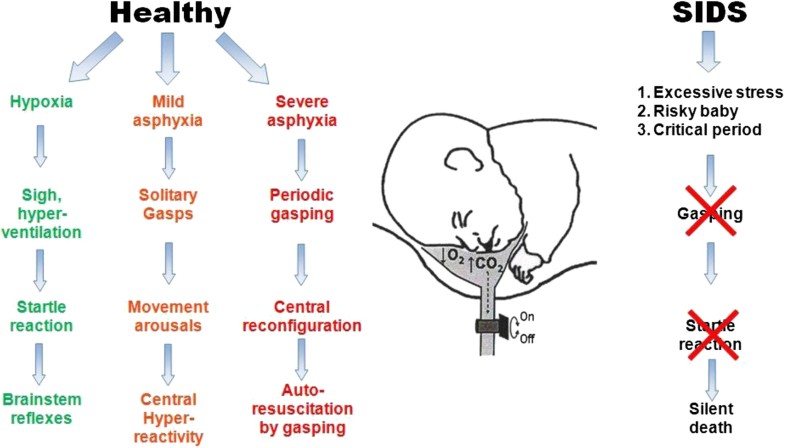 Authors' information
Viliam Donic, Roman Benacka, Jan Jakus and Sona Gresova are co-authors.
Abbreviations
5HT:

5 hydroxy tryptamine
AspR:

Aspiration reflex
A-V:

Atrio-ventricular
BötzC:

Bötzinger complex
CBF:

Cerebral blood flow
CD:

Cardiac death
CPG:

Centralpattern generator
CPCR:

Cardio pulmonary cerebral resuscitation
CR:

Cough reflex
DI:

Deep inspiration
ECG:

Electrocardiogram
EEG:

Electroencephalogram
EMG:

Electromyogram
ExpR:

Expiration reflex
FMRI:

Functional magnetic resonance imaging
HBEFR:

Hering-Breuer expiration facilitating reflex
HBIR:

Hering-Breuer inflationreflex
GG:

Genio glossus muscle
NPh:

Nasopharynx
NSRF:

Nucleus sub-retro-facialis
Ppl:

Pleural pressure
preBötzC:

preBötzinger complex
RARs:

Rapidly adaptingreceptors
SARs:

Slowly adapting receptors
SI:

Spasmodic inspiration
SIDS:

Suddeninfant death syndrome
UA:

Upper airways
V':

Airflow
VF:

Ventricularfibrillation
VT:

Tidal volume.
Declarations
Acknowledgements
The implementation of experiences obtained during the complex study of airwayreflexes summarized in a concentrated form in this review was possible by closecooperation with prof. emeritus Imrich Ivanco MD, PhD and late prof. Juraj Korpas,MD, DrSc. at the Faculty of Medicine PJ Safarik University, Kosice, Slovakia andlater with Juraj Korpas, Prof. Jan Jakus, MD, DrSc, Prof. Kamil Javorka, MD, DrSc andothers at the Jessenius Faculty of Medicine in Martin, Comenius University,Bratislava, Slovakia, as well as with late prof. John G. Widdicombe from OxfordUniversity during one year sabbatical study state, granted by Welcome Foundation, andlater at London University, UK. Many thanks for their valuable collegial cooperation.We thank Ing. Martin Kundrík and Assist. prof. Maria Pallayova, MD, PhD fortechnical help with preparation of the manuscript. The research was supported andapproved by Slovak Grant Agency for Research (APVV) No. 20.047705 and No.0189–11, as well as COST action B26. The Ethical committees of the Faculty ofMedicine, PJ Safarik University and of the University Hospital, Kosice, and of theJessenius Faculty of Medicine in Martin, Slovakia gave a written consent to theanalyzed research activities.
Authors' Affiliations
(1)
Department of Human Physiology Faculty of Medicine, University of PJ Safarik, Kosice, Slovakia
(2)
Department of Pathophysiology, Faculty of Medicine, University of PJ Safarik, Kosice, Slovakia
(3)
Jessenius Faculty of Medicine in Martin, Comenius University, Bratislava, Slovakia
Copyright
© Tomori et al.; licensee BioMed Central Ltd. 2013
This article is published under license to BioMed Central Ltd. This is an Open Access article distributed under the terms of the Creative CommonsAttribution License (http://creativecommons.org/licenses/by/2.0), whichpermits unrestricted use, distribution, and reproduction in any medium, provided theoriginal work is properly cited.